Creams - Whipping & Cooking
Creme Patisserie 10L
Whether you're about to decorate a spectacular cake, prepare a fine cream for sweet confectionery treats, make a refreshing ice cream, a fruit salad or even a pudding, Creme Patisserie is exactly what you need!
Based on vegetable fats, Creme Patisserie has an irresistible taste and perfect texture. It increases its volume by up to 3.5 times by mixing, has long-term stability and keeps its shape intact, without the need to add a hardener!
There are no better whipped creams than those created with Creme Patisserie! Recommended by professional chefs and gastronomy enthusiasts, Creme Patisserie transforms you into a chef in the kitchen faster than you can say "delicious".
For best results, it is recommended to cool the product to 6°C – 8°C before mixing.
We recommend keeping it in a cool place, between 4 and 20 degrees. After opening, store in the refrigerator and consume within 5 days.
Creme Patisserie is available in 200ml, 500ml, 1L, 10L and even spray. Choose Creme Patisserie at 10L when you have a really big event in the family and everyone loves your sweets and, of course, if you need the best vegetable cream for your cake shop or restaurant!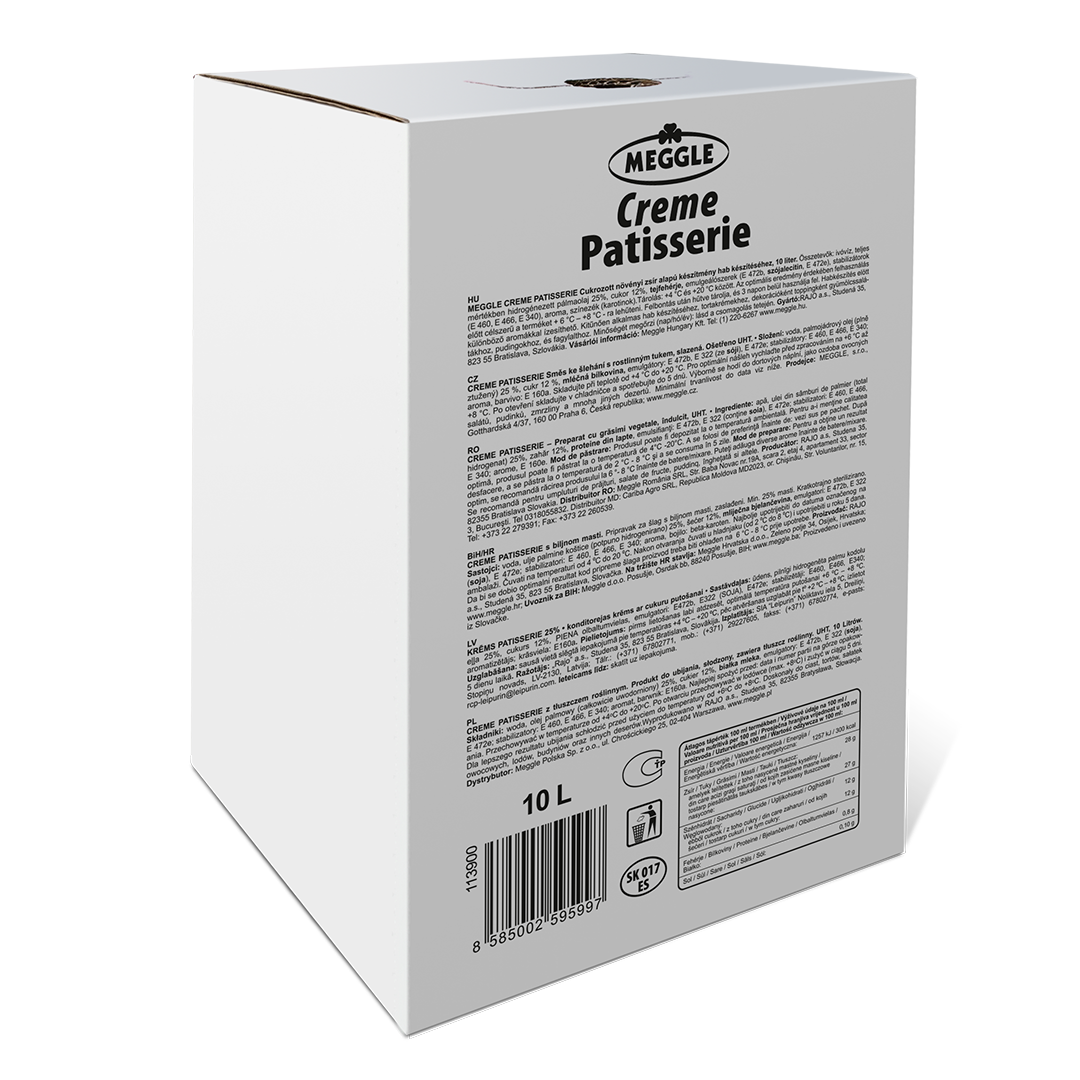 Nutrition facts per 100g:
Energy 1257kj / 300kcal
Fat 28 g
Saturated fat 27 g
Carbohydrates 12 g
Sugar 12 g
Protein 0,8 g
Salt 0,10 g
Ingredients:
water, palm kernel oil (total hydrogenated) 25%, sugar 12%, milk proteins, emulsifiers: E472b, E322 (contains soy), E472e; stabilizers: E460, E466, E340; aroma, E160e
Password protected content! Please enter password.
Other products