Main dishes
Mini quiche with broccoli, goat cheese and pecan nuts
Ingredients:
For tartelette moulds:
250 g plain flour
80 g premium Meggle butter
40 g grated parmesan cheese
1 tsp salt
1 egg
pinch of ground thyme
1-2 tbsp cold water
For filling:
150 ml Creme Cuisine Chef
2 spring onions
1 tbsp vegetable oil
1 smaller head of broccoli
3 eggs
100 g goat cheese
salt, black pepper, nutmeg
handful of pecan nuts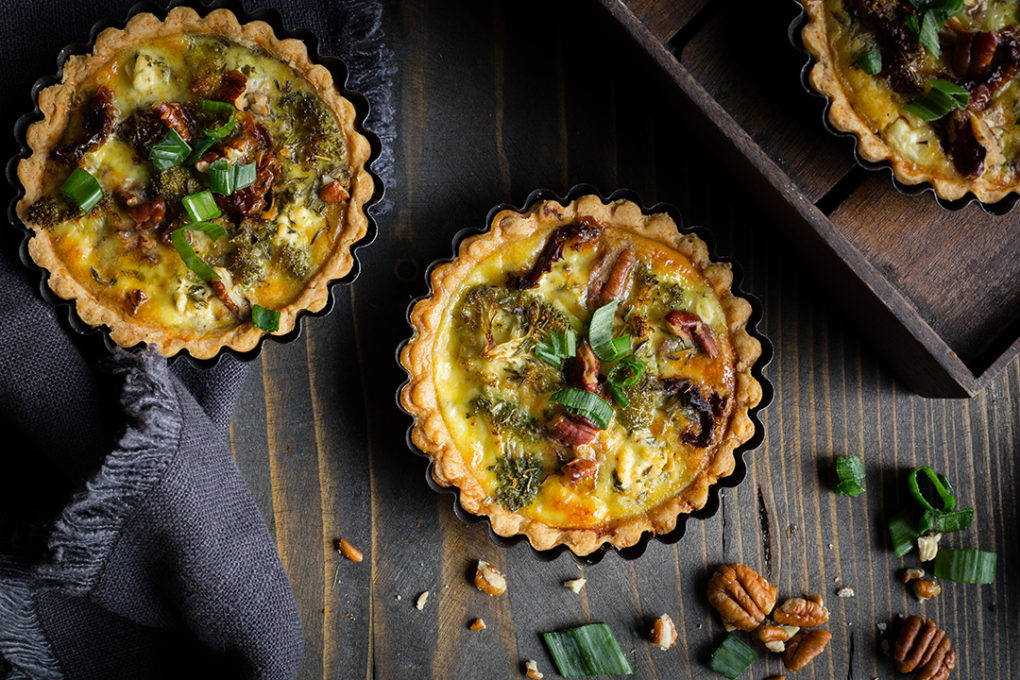 Preparation:
Combine flour, salt, butter cut into pieces, parmesan, and eggs to make dough. If crumbly, add 1-2 tbsp cold water, to make the dough more coherent. Add ground thyme. Wrap finished dough in cling wrap foil and refrigerate for 1 hour.
Heat oven to 180°C and prepare tartelette moulds. For easy dough release, moulds with removable bottoms are best. Butter moulds lightly.
Remove the dough from the refrigerator. Roll out thinly between two cling foil layers. Cut out circles to completely fill tartelette forms. Pierce the base with a fork, place a circle cut out from the baking sheet onto the dough and fill with dry beans. Bake for 10-15 min. This method is referred to as 'blind baking' (baking crust without filling).
Remove moulds from the oven and remove the baking sheet.
Meanwhile, prepare the filling for the crust. In a pan, heat vegetable oil and cook chopped onions. Spread onto the crust. Steam-cook broccoli, finely chop and spread over cooked onions. Add goat cheese. Season with salt and pepper.
Whip eggs with Creme Cuisine Chef and pour carefully into each mould. Chop pecan nuts and sprinkle on top. Bake for 20 min.
Print recipe
MEGGLE products used in recipe