Desserts
Vanilla cake with berry cream with ombré effect
Ingredients:
Corpus (24 cm cake tin):
6 whole eggs (egg whites and yolks separated)
200 g cane sugar
6 tbsp sunflower oil
pinch of salt
zest grated from ½ untreated lemon
seeds from one vanilla pod
240 g plain flower
Cream filling:
700 ml Creme Patisserie Decor
200 g berries (mixture)
5-6 tbsp icing sugar (or as desired)
1 tsp vanilla extract
For decoration:
raspberries for garnishing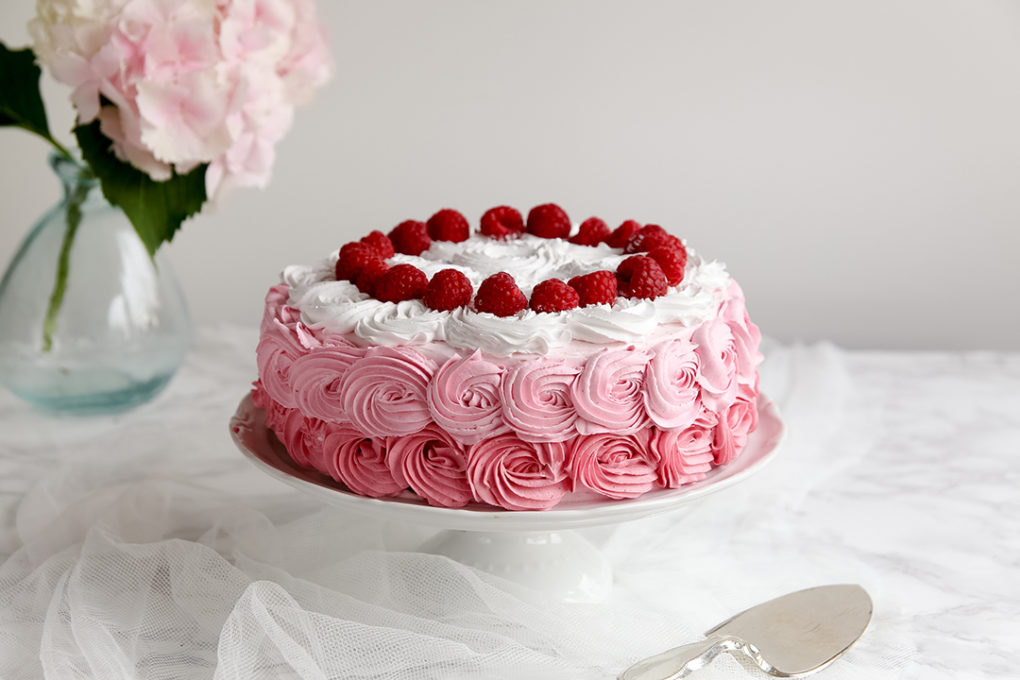 Preparation:
Heat the oven to 160°C and prepare a 24 cm cake tin lined with a baking sheet.
Beat egg whites with a pinch of salt until holding shape. Slowly add sugar and beat on high speed. Gradually add egg yolks one by one, oil, vanilla pod seeds, and lemon zest. Finally, stir in flour carefully.
Pour dough into the cake tin and bake for 40 min. Allow to cool and cut horizontally into three even layers.
Prepare the cream filling. Blend the berry mixture and strain through a sieve to remove any seeds.
Whip Creme Patisserie Décor, add sugar and vanilla extract, and beat thoroughly.
Divide the cream into two halves. Add ½ of the berry mixture into the first half. Use this cream mixture to spread onto the cake layers and cover the whole cake evenly (a thin layer is sufficient). Allow the second half to cool.
Use the second half of the cream to create an ombré effect. To do that, take three bowls and put 1/3 of the cream into each. Leave one portion white, add a little of the berry mixture into the second and even more into the third to make it the darkest.
Take three pastry bags and fill each with cream. Start piping the cream from the bottom of the cake, using the darkest mixture, then the lighter and apply the whitest cream on top of the cake. Garnish with raspberries. Allow cooling.
Print recipe
MEGGLE products used in recipe