Desserts
Pistachio cake with raspberry cream
Ingredients:
Corpus (20 cm cake tin):
4 whole eggs (egg whites and yolks separated)
160 g granulated sugar
4 tbsp sunflower oil
pinch of salt
100 g plain flour
60 g finely ground pistachio nuts
½ tsp baking powder
Cream filling:
350 ml Creme Patisserie Decor
250 g raspberries
3 – 4 tbsp granulated sugar
3 tbsp icing sugar
For decoration:
Strawberries, raspberries, meringues, flowers to garnish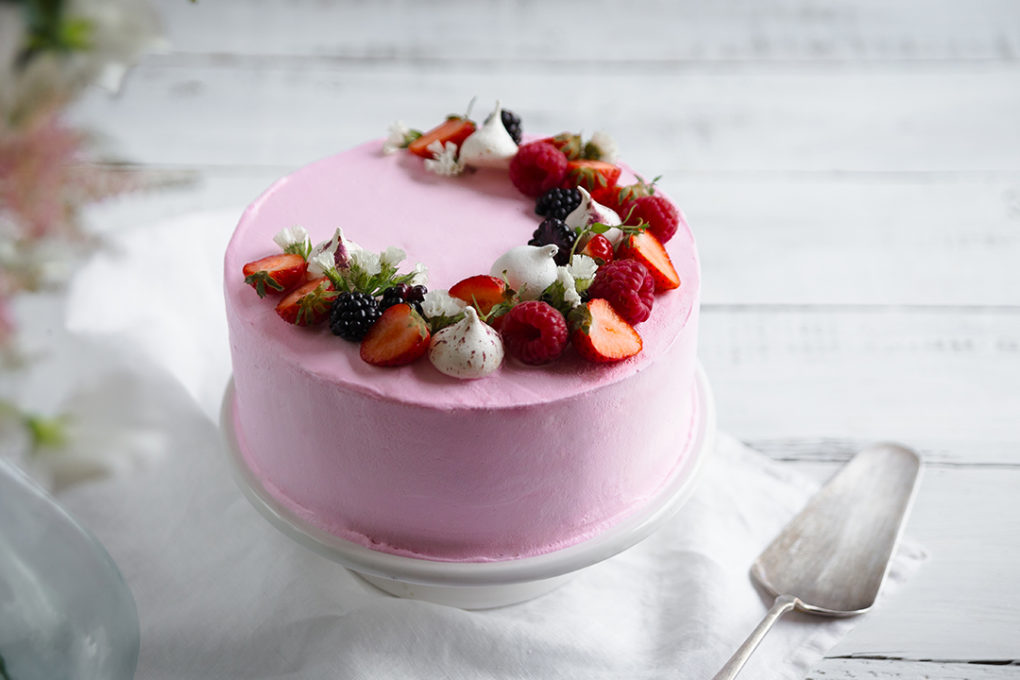 Preparation:
Heat oven to 160°C and prepare a 20 cm cake tin lined with a baking sheet.
Beat egg whites with a pinch of salt until holding shape. Slowly add sugar and beat on high speed for 5-6 min.
On a lower speed, slowly add egg yolks and oil.
Mix flour with ground pistachio nuts and baking powder and using a spatula carefully stir into the egg mix.
Pour dough into the cake tin and bake for 40-45 min. Allow to cool and cut horizontally into three even layers.
Prepare the cream filling. Put raspberries and sugar into a pan, crush with a spoon and bring to a boil until the sugar dissolves and the mixture is slightly reduced. Allow to cool and strain. The raspberry puree is ready.
Whip Creme Patisserie Decor with sugar, eventually add the cold raspberry puree.
Spread the raspberry cream onto the first cake layer and cover it with the second layer. Repeat and cover with the last layer. Press down lightly. Leave enough cream to cover the top and the sides of the cake evenly.
Garnish with strawberries, raspberries and other berries, meringues or edible flowers.
Print recipe
MEGGLE products used in recipe