Soups
Creamy carrot soup
Ingredients:
200 ml Creme Cuisine Chef
2 tbsp vegetable oil
1 large shallot
600 g carrots
5 cm piece of fresh ginger
5 dl vegetable stock
salt, black pepper, nutmeg grated
handful of parsley
1 small sweet potato
dried rosemary, dried garlic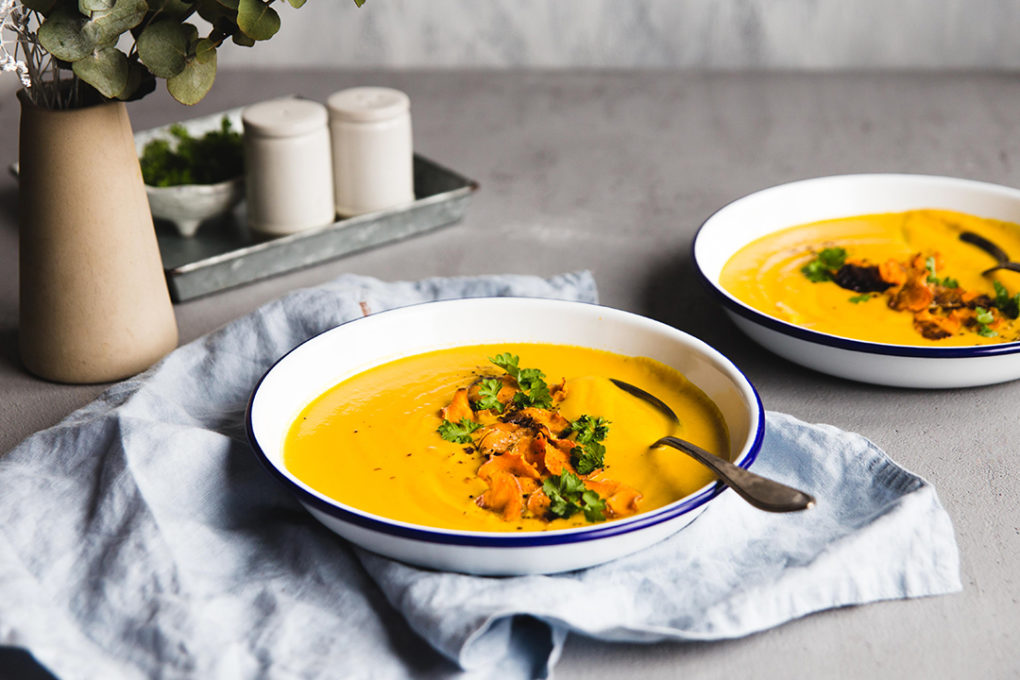 Preparation:
Heat oil and add finely chopped shallot. Sauté for 5 minutes.
Peel and slice the carrots and add to the shallot. Peel the ginger, chop it finely, add to the carrots, sauté for a while, and add the broth. Simmer until carrots are tender.
Finally, add Creme Cuisine Chef and bring to a boil. Season with salt and pepper.
Blend the soup until smooth. If you feel the soup is too thick, add more broth and heat rapidly.
To make the sweet potato chips, wash the potato and cut it into thin very slices using a mandoline. Put the slices into a bowl filled with water and let them soak for about 20 min.
Meanwhile, heat the oven to 220°C and line a baking pan with a baking sheet.
Take the sweet potato slices out of the water and pat excess moisture with a paper towel. Put the slices into a clean bowl and drizzle with olive oil. Add dried rosemary, dried garlic, salt, and pepper as desired, toss until coated.
Arrange the slices on the baking pan so that they do not overlap and bake for about 15 min. Allow the slices to cool.
Before serving, decorate the soup with the sweet potato chips and fresh parsley.
Print recipe
MEGGLE products used in recipe