Desserts
Carrot muffins with orange crème frosting
Ingredients:
For 12 pcs:
Muffins:
160 g cane sugar
2 whole eggs
100 ml vegetable oil
280 g grated carrots
170 g plain flour
1 tsp baking powder
pinch of baking soda
1 tsp ground cinnamon
pinch of salt
a handful of chopped walnuts
Frosting:
250 g Meggle Creme
70 g icing sugar
zest from ½ orange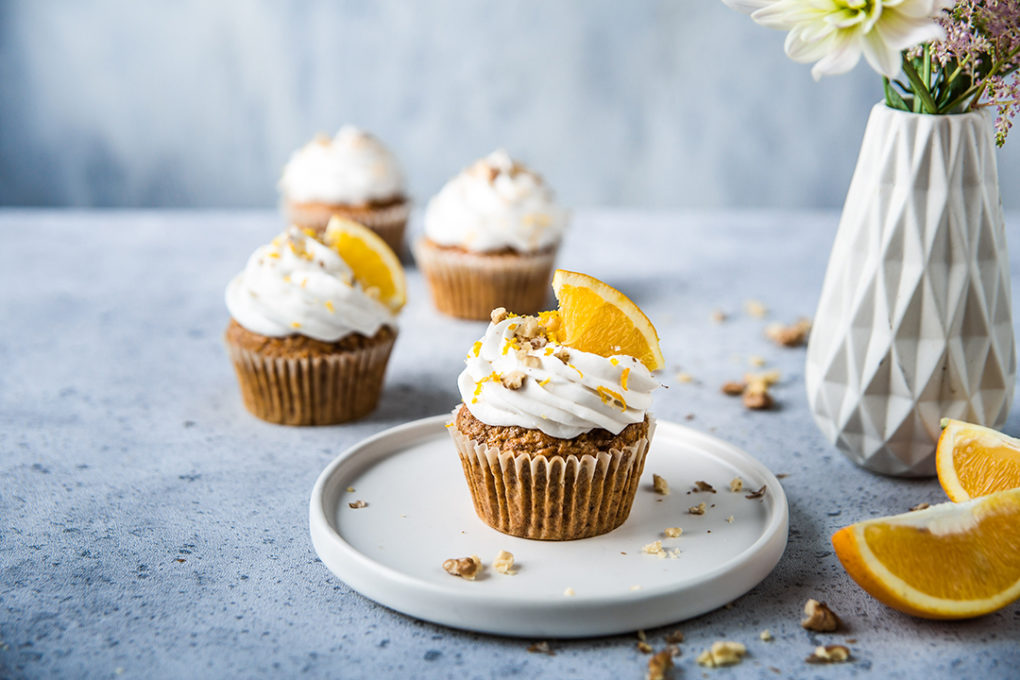 Preparation:
Heat oven to 180°C and line a muffin tin with muffin liners.
Beat yolks and sugar until pale and fluffy and gradually whisk in oil.
Add grated carrots, flour mixed with baking powder and baking soda, cinnamon, and salt.
Eventually, toss in a handful of roughly chopped walnuts and divide the batter evenly between the muffin liners. The liners should be filled ¾ full as the batter tends to rise.
Bake for 25 -30 minutes. Take the muffin tin out of the oven and remove the muffins from the tin to cool.
For the frosting whish MEGGLE Creme with sugar and add orange zest. Refrigerate for half an hour to ensure it has thickened properly. Transfer frosting into a pastry bag for piping it evenly on top of the muffins.
To decorate, use orange zest, ground walnuts, or pieces of fresh orange.
Print recipe
MEGGLE products used in recipe