Desserts
Banana ombre cake with cinnamon filling
Ingredients:
Sponge ingredients (for a 20 cm tin):
2 whole eggs
70 g cane sugar
1 larger banana (ripe)
60 g premium Meggle butter, melted
130 g plain flour
1.5 tsp baking powder
pinch of salt
Other ingredients for the sponge:
a handful of finely chopped walnuts (to be added to the 1st sponge layer)
1 tbsp cocoa powder (to be added to the 2nd sponge layer)
2 tbsp cocoa powder and 50 g finely chopped chocolate (to be added to the 3rd sponge layer)
preserve of your choice for coating sponge layers (optional)
banana slices (optional)
Filling:
300 ml Meggle Creme Patisserie sweetened
2 tsp ground cinnamon
1-2 tbsp icing sugar (optional as Creme Patisserie is sweetened)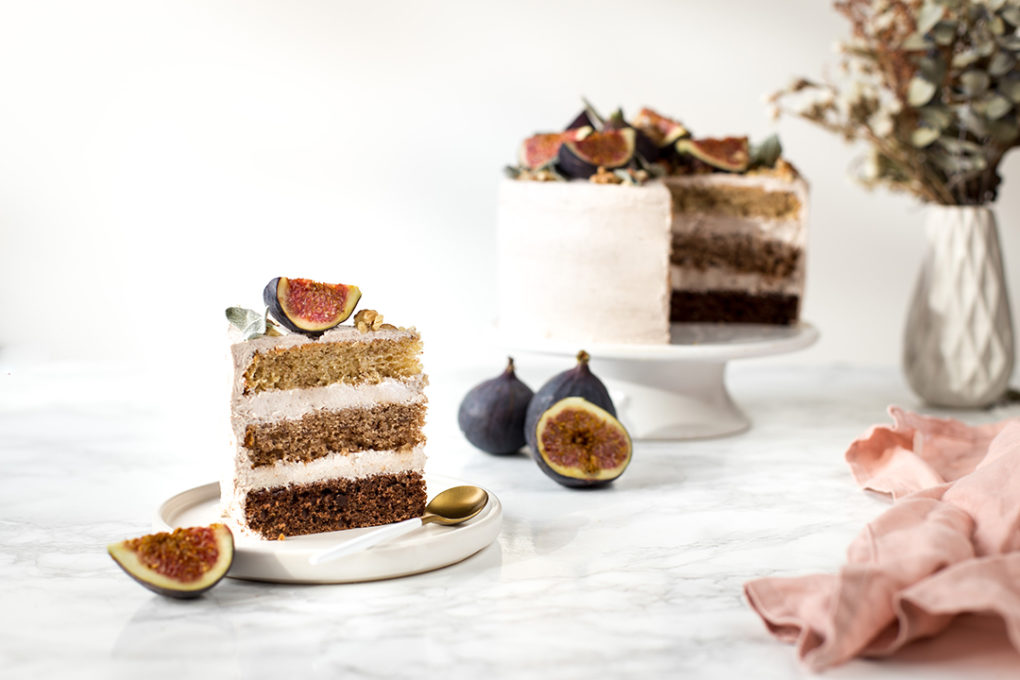 Preparation:
Heat oven to 160°C and prepare 3 identical cake tins (each 20 cm). Line the tins with baking sheets.
Each sponge layer has the same basic recipe: beat eggs and sugar until fluffy. Whisk in puréed banana and melted butter. In a separate bowl mix flour, baking powder, and salt. Combine the dry ingredients and the wet mix and stir thoroughly.
To achieve a nice ombre effect, to make sure the first sponge layer is light in color, add a handful of chopped walnuts to the basic recipe. Add 1 tbsp cocoa powder to the second layer, to make it darker and, finally, 2 tbsp cocoa powder and chopped chocolate to the third layer.
Pour the batter for each cake layer into a separate cake tin and bake for 40-45 minutes at 160°C or until a toothpick inserted into the center comes out clean.
Take the sponge layers out of the oven, leave to cool slightly, and remove from tins. If a layer has bulges on top, cut off with a knife.
While the layers are cooling, prepare the crème filling. Whisk Creme Patisserie sweetened with cinnamon. Add sugar if desired.
To achieve the ombre effect, start with the darkest sponge layer. Spread a thin layer of the preserve, arrange sliced banana and cover with a layer of the filling. Cover with the second darkest layer and repeat. Finish with the lightest cake layer. Spread the remaining cinnamon filling all over the top and sides of the cake evenly. Decorate with fruit and chopped nuts.
TIP: You can triple the sponge ingredients and then simply divide the whole into three parts and add walnuts into one, cocoa powder into the second, and cocoa powder and chocolate into the third part. Divide into 3 cake tins and bake. If you do not have 3 tins of the same size, you can bake them one by one.
Print recipe
MEGGLE products used in recipe