Desserts
Profiteroles with salted caramel
Ingredients:
Profiteroles:
60 g premium Meggle butter
124 ml water
pinch of salt
1 tsp granulated sugar
80 g plain flour
2 whole eggs
Salted caramel:
100 ml Creme Cuisine Chef
150 g granulated sugar
40 g butter
1 tsp salt
Cream filling:
250 ml Creme Patisserie Sweetened
salted caramel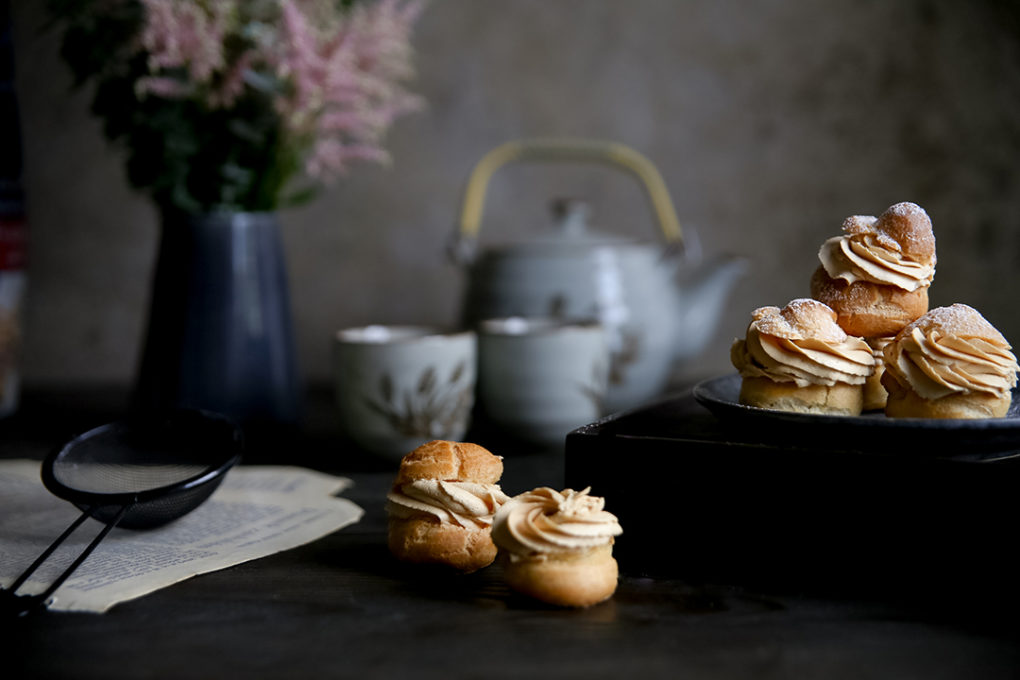 Preparation:
Heat oven to 200°C and line a large baking pan with a baking sheet.
Put butter and water into a pan and heat until butter melts. Add flour, salt, and sugar and beat until dough is thick and smooth. Allow the dough to cool.
Gradually add eggs one by one into the dough, mixing well.
Put the mixture into a pastry bag and pipe the dough into small buns, leaving enough space between the buns, as they will triple in size.
Bake the buns at 200°C for 20-25 min. Do not open the oven during baking as this could cause the dough to deflate. Allow the baked profiteroles to cool and prepare the filling.
First, make the salted caramel. Caramelise sugar in a deep pan. Once completely melted, slowly add butter and drizzle in heavy cream (be careful as the caramel will bubble rapidly) and remove from heat. Stir in salt. Allow the caramel to cool.
Whip Creme Patisserie until holding its shape and whisk in the salted caramel, whip some more. You can only add 3-4 tbsp of the caramel into the mixture if you desire.
Cut the profiteroles in half and fill them with the cream. Store in a cool place.
Print recipe
MEGGLE products used in recipe