Pasta
Pappardelle with honey-glazed pumpkin
Ingredients:
2 dl Creme Cuisine Chef
vegetable oil
250 g pappardelle
1 smaller Hokkaido pumpkin
1 tbsp honey
salt, black pepper
100 g bacon
2 handfuls of walnuts
chopped parsley or basil to garnish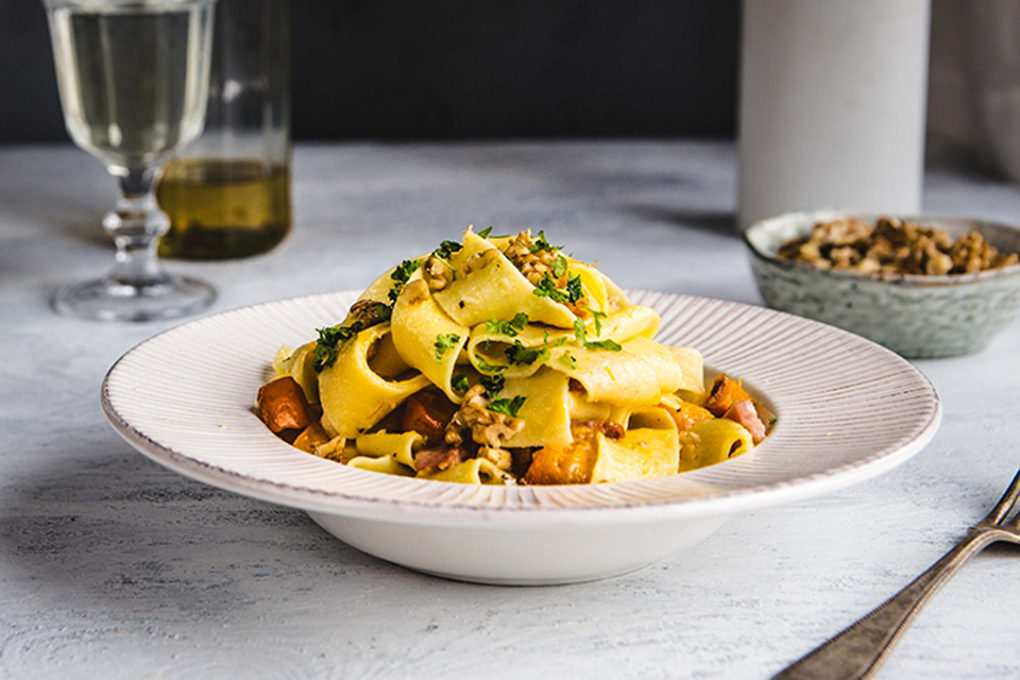 Preparation:
Heat oven to 200°C and line a baking pan with a baking sheet. Cut the pumpkin in half, remove the seeds and cut either into wedges or into small cubes. Place the cut pumpkin onto the baking sheet, season with salt and drizzle with honey and oil (such as olive oil).
Bake in preheated oven for 15-20 min. depending on how big the pumpkin pieces are. Cubed pumpkin will bake faster than wedges. Towards the end of baking the pumpkin, toss in walnuts and roast them (they will add a nice toasty smell).
Cook pasta in salted water until al dente. Drain.
Cut bacon into strips or small cubes and place onto a hot pan to fry.
Once the bacon is fragrant, add the roasted pumpkin with walnuts and fry some more. Add pasta, season with salt, and add Creme Cuisine Chef. Toss pasta thoroughly to make sure all the ingredients blend with the creme and warm up the pasta. Turn the heat off and serve.
Garnish with chopped parsley or basil.
Print recipe
MEGGLE products used in recipe