Main dishes
Grilled salmon with pea seed pureé
Ingredients:
3 salmon fillets
1 dl Creme Cuisine Chef
1 tbsp vegetable oil
1 smaller onion
2 garlic cloves
300 g frozen or fresh green peas
1 dl stock or water
handful chopped mint leaves
170 g cleaned boiled potatoes
salt, mixed pepper
dried thyme
chopped pistachio nuts to garnish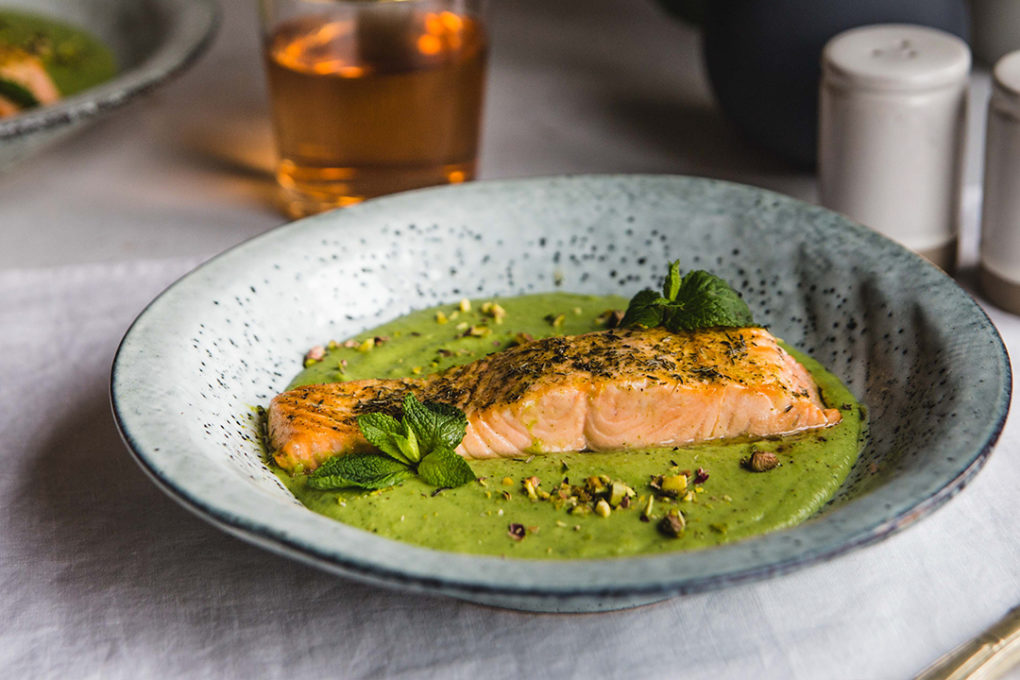 Preparation:
Heat oil in a pan and cook chopped onions until tender. Add finely chopped garlic and cook for a minute. Toss in green peas. Pour in stock or water in and let simmer for 10 min., until peas are tender. Season.
Add boiled and chopped potatoes, mint, Creme Cuisine Chef (amount depending on how thick you want the puree) and bring to a boil. Blend thoroughly until smooth.
Clean salmon fillets. Season each side with salt, pepper, and dried thyme. Add oil to warm pan and fry salmon on each side for 5 min. Move filets into an oiled baking pan and bake in the oven for 10 min. at 200° C until brown.
Serve salmon with green peas puree. Garnish with pieces of fresh mint and chopped pistachios.
Print recipe
MEGGLE products used in recipe