Desserts
Coconut mini pavlovas
Ingredients:
Meringues:
6 egg whites
pinch of salt
300 g icing sugar
2 tbsp coconut pudding powder or 2 tbsp corn starch
1.5 tsp white wine vinegar
Filling:
300 ml Creme Patisserie sweetened
2 tbsp granulated sugar
1 tsp vanilla extract
2 tbsp shredded coconut
For decoration:
Blueberries, blackberries and desiccated coconut chips to garnish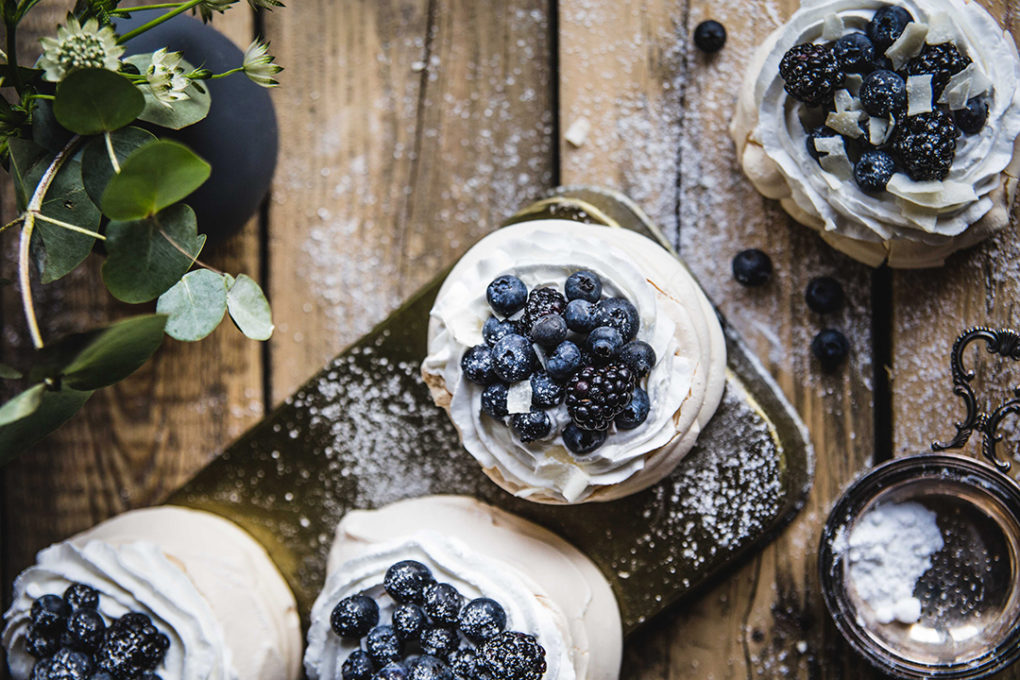 Preparation:
Take a big baking pan (or two pans, if needed) and line it with a baking sheet. Heat oven to 120°C.
Beat the egg whites with a pinch of salt until fluffy and start adding icing sugar little by little. Continue beating for another 10 minutes until stiff and eventually add the coconut pudding power/corn starch and vinegar.
You can draw small circles onto the baking sheet as a guide and spoon the mixture onto the sheet (you may also use a pastry bag to form the circles). Make a dimple in the middle of each meringue to fill later with the cream.
Put into the preheated oven and bake for 75-80 minutes. Turn oven off and with the oven door ajar, leave the meringues to cool completely in the oven.
For the filling, combine Crème Patisserie with the granulated sugar and vanilla extract and then fold in the shredded coconut. Spoon the mixture onto the meringues (you may also use a pastry bag), garnish with berries and coconut chips. Sprinkle with icing sugar if desired.
Print recipe
MEGGLE products used in recipe