Desserts
Coconut cheesecake
Ingredients:
Crust (ingredients for a 20 cm tin)
150 g buttery cocoa crackers
70 g butter, melted
2 PL coconut, shredded
Filling:
500 g Meggle Creme
120 g icing sugar
3 whole eggs
100 ml coconut milk
90 g shredded coconut
Frosting:
70 g chocolate with 70% cocoa content
1 tbsp coconut oil
coconut chips for garnish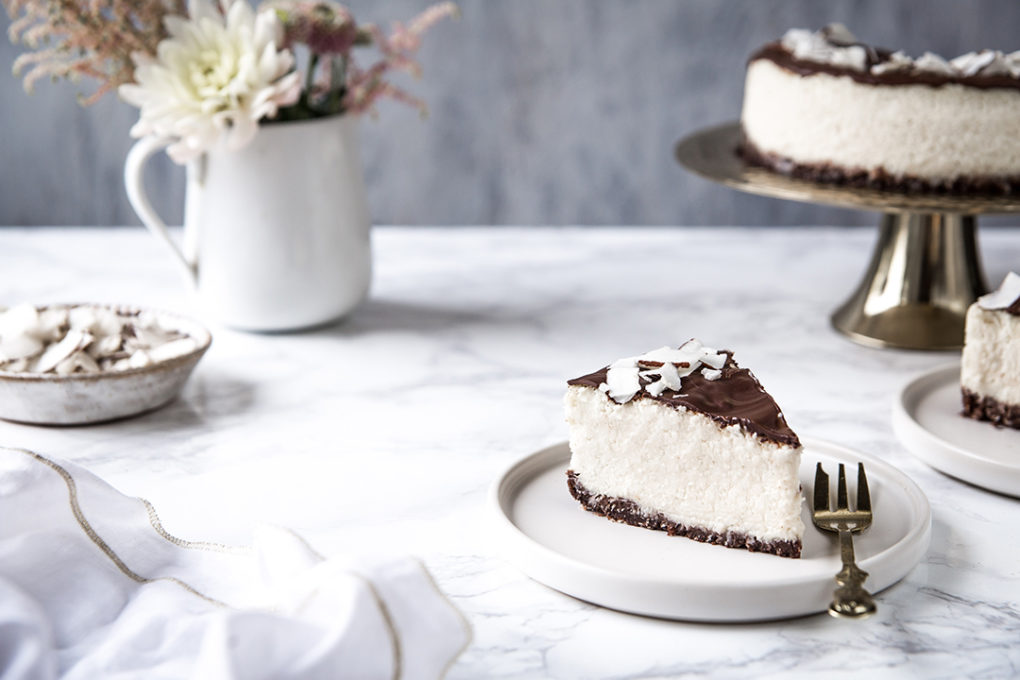 Preparation:
First, make the crust. Crush the crackers by hand or in a food processor until they form fine crumbs and combine with shredded coconut and melted butter. The mixture should hold together, and you should be able to press it into the bottom of the cake tin. The cake tin should be lined with a baking sheet.
Heat oven to 180°C and bake the crust for about 10 minutes. Let the crust cool completely.
To prepare the filling, beat MEGGLE Creme with sugar. Gradually beat in eggs one by one, coconut milk, and shredded coconut, mixing well.
Pour the batter over the cooled crust and transfer the tin into the oven. Bake for 50 – 55 minutes at 160°C. It is recommended to place a pan filled with water into the oven. The steam will prevent the cheesecake from cracking. The cheesecake is done when the outer edges are set, but the inner circle still jiggles. Cool the cheesecake in the oven with the door cracked open. Put the completely cooled cheesecake into the fridge to let it set completely.
For the chocolate frosting melt chocolate with coconut oil and pour the slightly cooled mixture over the cheesecake. You may either want to cover only the top of the cake or also its sides. Decorate with coconut chips and let the frosting set properly.
Print recipe
MEGGLE products used in recipe