Desserts
Cocoa and white chocolate tartelettes
Ingredients:
Crust dough (tartalettes):
220 g plain flour
100 g premium Meggle butter cut into pieces
2 eggs yolks
1 tbsp cold water
50 g icing sugar
3 tbsp cocoa powder
pinch of salt
Filling:
300 dl Creme Patisserie sweetened
160 g melted white chocolate
1 tsp vanilla extract
150 g raspberries or raspberry preserve
For decoration:
strawberries/dried strawberries/almonds/shredded coconut for garnish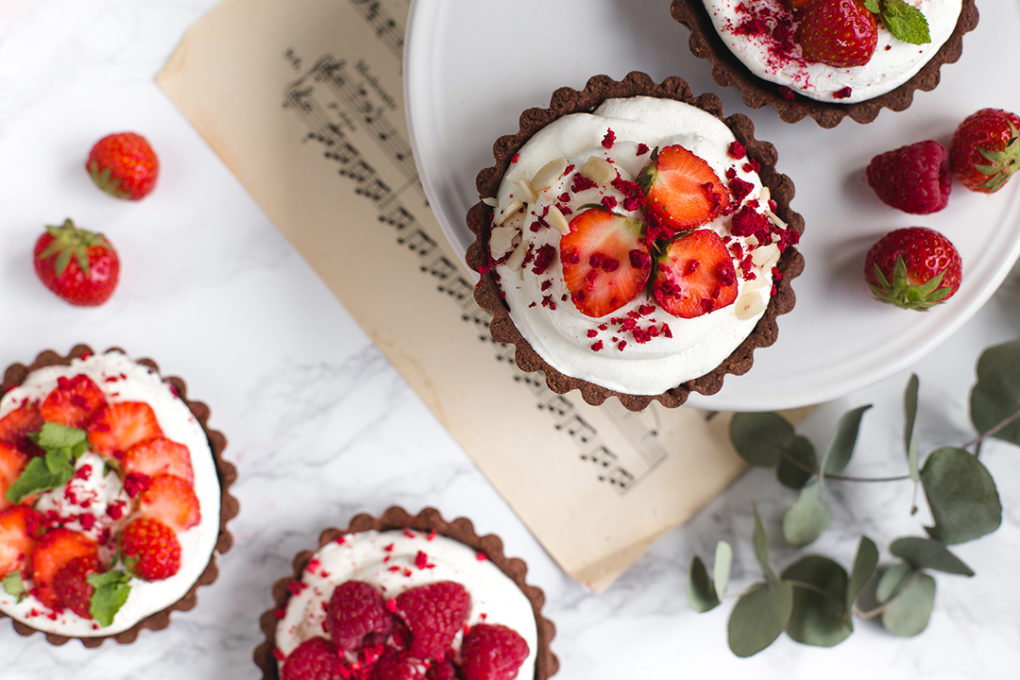 Preparation:
Combine flour, butter, egg yolks, sugar, cocoa powder, and salt to make a solid dough. You can add 1 tbsp of cold water if the dough is too dry.
Wrap dough with cling wrap and refrigerate for 1 hour.
Meanwhile, heat the oven to 180°C and prepare the moulds.
Roll out the dough between two sheets of cling wrap (to prevent the dough from sticking). Cut out circles that are slightly larger than the moulds: Line the moulds and make sure the dough covers the inside of the moulds completely. Cut off any excess dough. Pierce the base with a fork, place a circle cut out from the baking sheet onto the dough, fill with dry beans, and bake for about 10 min. This so-called "Blind baking" method (crust without filling) is recommended.
Let the tartelettes cool slightly and remove them from moulds. Allow cooling completely.
Prepare the filling. Melt white chocolate in over a hot-water bath. Allow to cool slightly, but make sure it does not harden.
Whip Creme Patisserie Sweetened. Gradually add melted white chocolate.
Place raspberries onto crust and crush them slightly (or spread raspberry preserve as an alternative). Use a pastry bag to fill the tartelettes with cream.
Garnish with cut strawberries, raspberries, shredded coconut or ground almonds.
Print recipe
MEGGLE products used in recipe